Business Cards are traditionally the primary way that business people present their contact information to other business people and potential customers or clients. So, having the correct,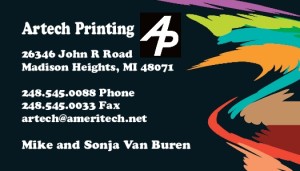 As much as people may like to think that the world of computers is going to remove the old styles of networking like business cards, it isn't happening anytime soon. When you go to a party or conference the best thing you can have with you is a great business card. Business cards are used throughout the world to quickly introduce a person, establish their role in an organization, or make a creative statement.
Minimum Information for a Business Card
Other information is optional but as a minimum the business card design should usually contain:
Individual's Name and / or Business Name
Individual's Title or some other descriptive text to indicate what the person does if it's not obvious from the business name
A way to contact the person – could be phone, fax, email, web page, mailing address, street address, etc.
Standard Business Cards are 2 x 3 1/2
1 or 2 sides
1 color, 2 color or Full Color
Most Common Standard Stocks Available
80# or 100# White Smooth
100# White & Colored Linen
12 pt. or 14 pt. White Gloss
Other stocks available also
We also can do:
Folded Business Cards
Double the amount of space to sell yourself with a folded business card
Embossed Business Cards
Raised Ink Business Cards
Magnetic Business Cards
Plastic Business Cards
Plastic cards are a great option for membership cards, gift cards, reward cards and more.