What is a NCR form?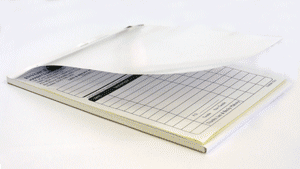 NCR (no carbon required) or carbonless forms, like the name suggests, have eliminated the need for carbon paper between sheets to create multiple copies of the same form. The paper is chemically treated to transfer the impression from the first page to the subsequent pages with very little pressure.
What are NCR and carbonless forms used for?
NCR forms have many uses with some of the most common being invoices, statements, purchase orders, contracts, work orders, applications and receipts where multiple copies are needed for customers, sales people, accounting, agents, mechanics, workers, etc.
Common NCR sizes
Standard sizes for NCR forms are half page (5.5″ x 8.5″), full page (8.5″ x 11″) and legal (8.5″ x 14″) although custom sizes can be ordered to meet your specific need. The design orientation can be either vertical or horizontal.
NCR forms are available in a number of pages, referred to as parts, ranging from 2 to 6 parts depending upon your need.
Color sequence of multipart NCR forms
2-part carbonless: white/yellow
3-part carbonless: white/yellow/pink
4-part carbonless: white/yellow/pink/gold
5-part carbonless: white/green/yellow/pink/gold
6-part carbonless: white/blue/green/yellow/pink/gold
Note: Carbonless forms can be printed on one side or two.
Binding Options
NCR forms can be ordered loose, padded, or bound into a booklet, a common practice for invoices or receipts.
NCR forms can be padded in sets of 25, 50 or 100 (or your choice) and come with a chip board backing.
Receipt Books and Invoice Books
NCR booklets for receipt forms and invoice forms are very handy as a copy of the form can be easily torn from the booklet and given to the customer, while leaving a copy in the booklet for the business. Pages are perforated for easy removal. A sturdy cover wrap maintains the booklet's integrity and can be inserted between forms to prevent transfer when completing the form.
Sequential Numbering is also available.