Artech Printing excels in printing forms for businesses in Royal Oak, MI.
Business forms include those used internally by a company and those seen by customers or others. Invoices and monthly statements, order forms, routing slips, customer satisfaction surveys, employee suggestion forms, job candidate evaluation forms, contracts, and job tracking forms are just some of the types of forms a business or organization might need. We supply business forms in Royal Oak
Nobody enjoys filling out paperwork. But when it comes to interacting with your clients, nothing says
business like organized business forms with your logo and company information clearly printed.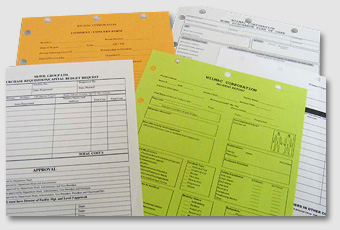 Whether you need graphic design assistance, or simply need to print the designs you already have, you'll find what you need with Artech Printing business form printing.
Choose single page, or carbonless papers.
Popular Business Forms Include, but not limited to:
Agreements
Contracts
Estimates
Invoices
Order Forms
Booked Forms
Packing Lists
Proposals
Purchase Orders
Sales & Receipts Sheets or Books
Glued-Edge Forms
Graph Paper
Shipping & Freight Forms
Bills of Lading
Delivery Receipts
Packing Lists
Order Changes
Phone Messages
Return Forms
Service Calls
Work Authorizations
Voucher Checks